How to give access to Google Sheets
To give access to Google Sheets means to grant permission to one or more people to view or edit a specific Google Sheets document. Giving access to Google Sheets is essential for collaborative work and efficient sharing of information with others while maintaining security and control over your data.
In this tutorial we will learn how to give access to google sheets. In our data set the result of a student is shown, containing the name of subjects and marks in that subject. Now we want the access of this result to different people as a viewer. This can be done by the share option. Following steps will guide you to use this function.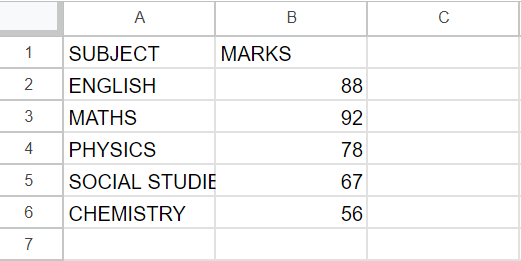 Method 1 :Give Access to a Specific Person
Step 1 – Click on the Share option
Click on the share option from the Taskbar and a dialog box will appear
Step 2 – Type the mailing address
In the dialog box, type the mailing address of the person you want to give access to
Step 3 – Click on the Down Arrow
In the dialog box, click on the down arrow in the status box and a dropdown menu will appear
Step 4 – Select the status
From the dropdown menu, click on Viewer
You can select any other option you want
Step 5 – Click on the Send option
After selecting the status (of person you want to give the excess), click the on Send option
Method 2: Give Access to Everyone
Step 1 – Click on the Share option
Click on the share option from the Taskbar and a dialog box will appear
Step 2 – Click on the down arrow
In the dialog box, click on the down arrow in the box below the General access option
and a dropdown menu will appear
Step 3 – Click on Anyone With the link option
In the dropdown menu, click on the Anyone With the link option
Step 4 – Click on the Down Arrow
In the dialog box, click on the down arrow in the status box and a dropdown menu will appear
Step 5 – Select the status
From the dropdown menu, click on Viewer
You can select any other option you want
Step 6 – Click on the Done option
After selecting the status (of person you want to give the excess), click the on Done option