How to set margins in Excel
You can watch a video tutorial here.
To properly format an Excel sheet for printing or for saving in another format such as PDF, it is important to set the margins. Margins are the blank spaces that surround the data on a page. Margins can be adjusted to increase or decrease the blank spaces, depending on the volume of data. 
Option 1 – Use a preset margin
 Step 1 – Open the print menu
Go to File > Print
The print preview is displayed
Step 2 – Choose a preset margin
Expand the Margins menu
Select Narrow 
Note: The preset margins can also be accessed using the menu Page Layout >Page Setup >  Margins
Step 3 – Check the result
Check the preview to see if the data is properly aligned
Option 2 – Customize the margin
Step 1 – Open the print menu
Go to File > Print
The print preview is displayed
Step 2 – Open the Page Setup window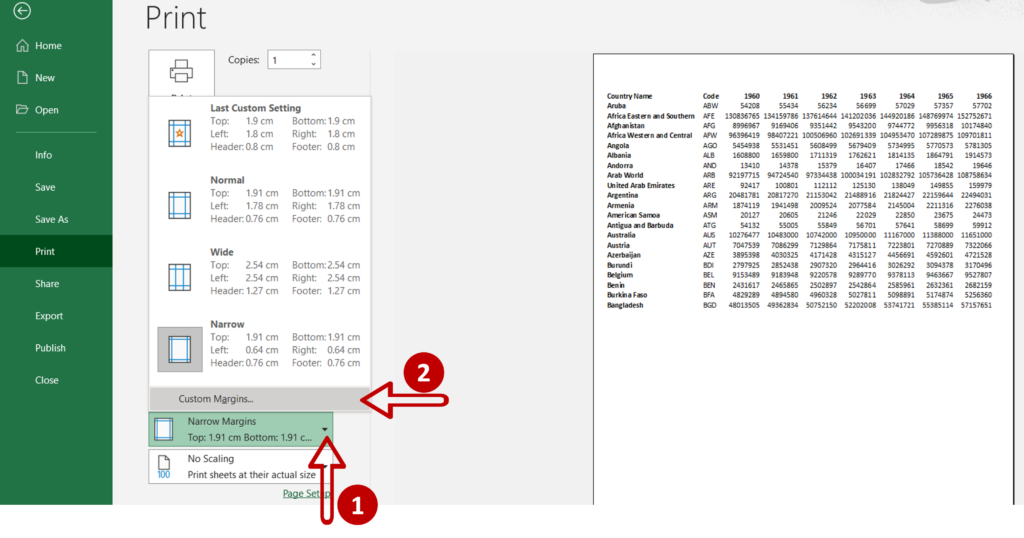 Expand the Margins menu
Select Custom Margins
Step 3 – Customize the margin
Change the Top and Bottom margins to 2
Click OK
Note: The Page Setup window can also be opened by using the menu Page Layout > Page Setup > Margins > Custom Margins or by clicking on the Page Setup link in the Print window
Step 4 – Check the worksheet
Check that the margin is suitable and that the data fits the worksheet properly