How to reverse names in Excel
You can watch a video tutorial here.
Excel is frequently used as a database and can store data in any format that you choose. There may be a case where you have a list of names in which the first name is followed by the last name. You may need to reverse this order to sort the names according to surname. 
There are 2 ways of doing this, one way is a static method which has to be repeated each time the names need to be reversed. The second is a dynamic method using a formula that automatically reverses the name even if the name changes.
Use the Flash Fill option as the static method
Build a dynamic formula using the MID(), SEARCH() and LEN() functions:

MID() function: this returns a specified number of characters from a string

Syntax: MID(text, start number, number of characters)

text: the string from which the characters are to be extracted
start number: the number of the character from which the extraction is to start
number of characters: the number of characters to extract

SEARCH() function: this returns the position of the character being searched for within a string

Syntax: SEARCH(character, text, start)

Character: the character to be located
text: the string in which the character is to be found
start number (optional): the position from which the search is to start 

LEN() function: this returns the length or the number of characters in a string

Syntax: LEN(text)
text: the string for which the length is to be computed
Option 1 – Use Flash Fill
Step 1 – Create the pattern
Select the cell where the result is to be displayed
Type the following:
Press Enter
Step 2 – Use Flash Fill
Go to Home > Editing
Expand the Fill drop-down
Select Flash Fill
Step 3 – Check the result
The same pattern is applied to the rest of the names
The names are reversed
Option 2 – Build a formula
Step 1 – Create the formula
Select the cell in which the result is to appear
Type the formula using cell references:
=MID(Name &", "&Name,SEARCH(" ",Name)+1,LEN(Name)+1)
The first argument duplicates the name and adds a comma:

Name &", "&Name  = Mary Elizabeth, Mary Elizabeth

The second argument searches for the first space in the name and adds 1 to return the starting position of the string to be extracted:
The third argument specifies the number of characters to be extracted which is the length of the text plus 1 for the comma:
Press Enter
Step 2 – Copy the formula
Select the cell with the formula
Using the fill handle from the first cell, drag the formula to the remaining cells
OR
Select the cell with the formula and press Ctrl+C or choose Copy from the context menu (right-click)
Select the rest of the cells in the column and press Ctrl+V or choose Paste from the context menu (right-click)
Step 3 – Check the result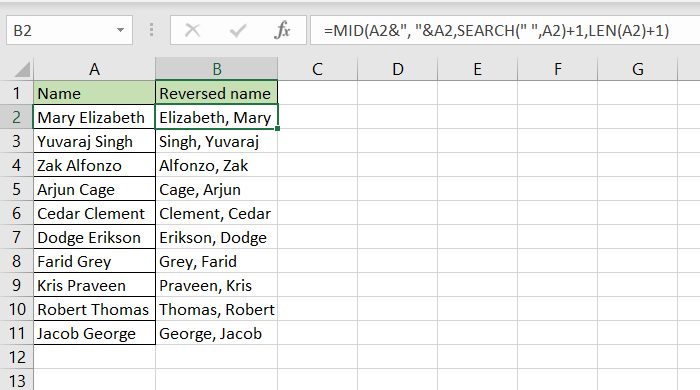 The formula is copied to the rest of the cells
The names are reversed