How to move Excel cells down
Moving Excel cells down means shifting the content of one or more cells to the next row below. moving Excel cells down is an important function that allows you to manipulate the data in your spreadsheet to better organize and analyze it.
In our dataset, we have information on employees belonging to different departments of a company, specifically Marketing, and Finance. To segregate the employees according to their respective departments, we need to move the Finance department employees downwards. There are four different methods explained below to accomplish this task.
Method 1: Move Cells Down using the Insert Cells option
Step 1 – Select the Range of Cells
Select the range of cells that you want to move down
Step 2 – Click on the Insert Cells option
After selecting the range of cells, click on the arrow next to the Insert Cells option in the Cells group of the Home tab and a drop-down menu will appear
From this menu, click on the Insert cells option and a dialog box will appear
Step 3 – Click on the Entire row option
In the dialog box, click on the Entire row option
And then click on OK to get the required result
Method 2: Move cells down by Dragging
Step 1 – Select the Range of Cells
Select the range of cells that you want to move down
Step 2 – Drag the Range 
Move the cursor on the boundary of the selected range and drag it where you want to show the selected range 
Method 3: Move Cells down using the Context menu
Step 1 –  Select the Range of Cells
Select the range of cells that you want to move down
Step 2 – Open the context Menu
After selecting the range of cells, right-click anywhere in the selected range and the context menu will appear
Step 3 – Click on the Insert option 
In the context menu, Click on the Insert option and a dialog box will appear
Step 4 – Click on the Entire row option
In the dialog box, click on the Entire row option
And then click on OK to get the required result
Method 4: Move cells Down using Cut and Paste options
Step1 – Select the Range of Cells
Select the range of cells that you want to move down
Step 2 – Open the Context menu
After selecting the range of cells, right-click anywhere in the selected range and the context menu will appear
Step 3 – Click on the Cut option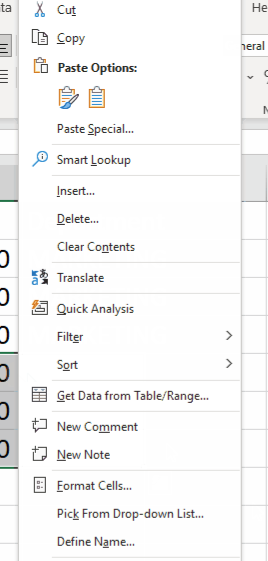 In the Context menu, click on the Cut option
Step 4 – Select the Cell 
Click on the cell where you want to show the selected range
Step 5 – Paste the selected Range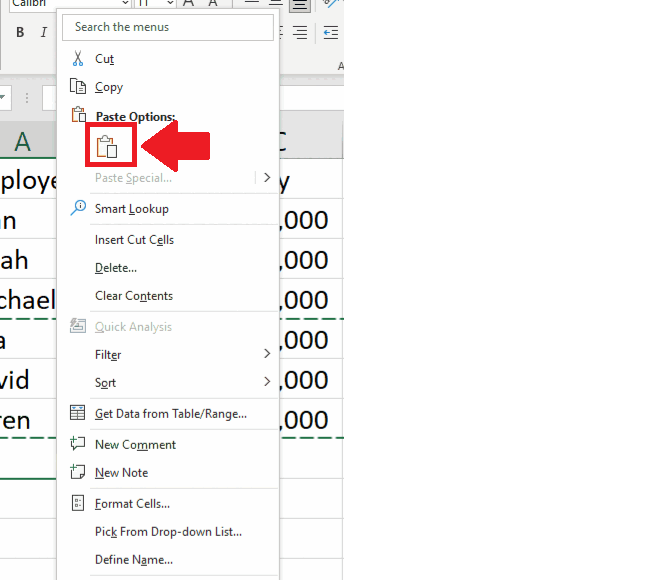 Click on the selected cell and the context menu will appear
From the context menu, click on the Paste option to get the required result