How to merge two rows in Excel
You can watch a video tutorial here.
Merging rows in Excel is most often used when formatting tables, to make the table more readable.  When a value is repeated multiple times across two rows, within the same column, it is better to combine the rows so that the value is displayed only once. If the rows to be merged are blank, then the solution is simple. If the rows contain data, then there are different solutions depending on whether all the data is to be retained or not. 
Option 1 – Only the data in the first row is to be retained
Step 1 – Select the rows 
Select the rows to be merged
Step 2 – Navigate to the Merge menu
Go to Home > Alignment
Expand the Merge & Center menu
Select Merge Cells
Step 3 – Check the result
The rows are merged into one cell
Option 2 – Data in both rows is to be retained
Step 1 – Open the clipboard
Go to the Home menu
Open the Clipboard
Step 2 – Copy the data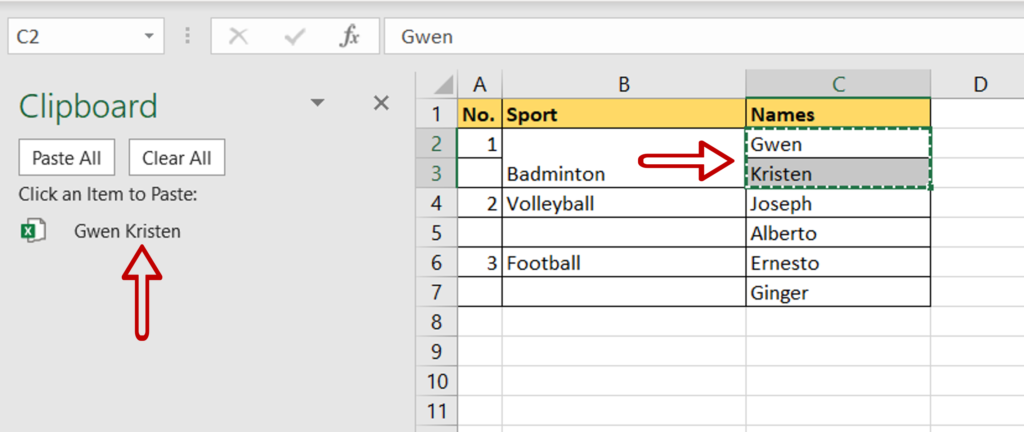 Select the rows to be merged and click Ctrl+C
The data will be copied onto the clipboard
Step 3 – Paste the data into the top cell
Double-click on the top cell or place the cursor on the cell and click F2
Delete the data in the cell
Click on the item in the clipboard
The data will be pasted into the cell
Press Enter
Step 4 – Navigate to the Merge menu
Select the rows to be merged
Got to Home > Alignment
Expand the Merge & Center menu
Choose Merge & Center
Step 5 – Merge the cells
A warning will be displayed
Click OK
Step 6 – Check the result