How To Import Stock Prices Into Excel
Importing stock prices into Excel can be a useful skill for investors, financial analysts, and anyone who wants to keep track of the stock market. By using Excel, you can easily analyze stock data, create charts, and make informed investment decisions. However, getting stock prices into Excel can be a challenge for those who are new to the process.
Fortunately, there are several ways to import stock prices into Excel, and the process is not as complicated as it may seem. In this article, we will walk you through the steps to import stock prices into Excel, using different methods. Whether you want to import real-time stock prices or historical stock data, we have got you covered.
So, if you are ready to learn how to import stock prices into Excel, let's get started! Suppose we want to import stock prices of the following companies.
Method 1 – Using Stock Connector Add-In
In Excel, add-ins are third-party tools or programs that extend the functionality of Microsoft Excel. They provide additional features that are not available in the standard version of Excel. Add-ins can be installed as standalone applications or as plugins within Excel.
Step 1 – Go To Insert Tab
Open a blank Microsoft Excel Workbook.
Go to insert Tab, under Add-Ins group click Get Add-Ins button.
Step 2 – Office Add-Ins Window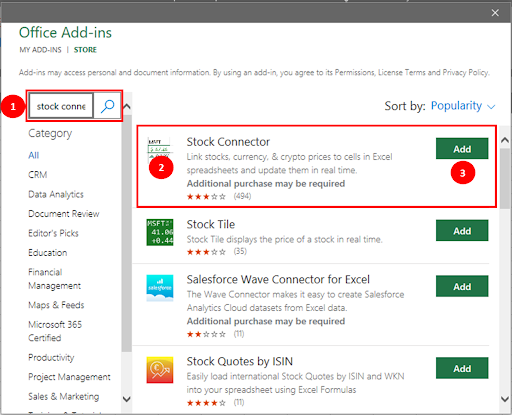 The Office Add-Ins window will appear on your screen.
In the search box type "Stock Connector" & click search button.
Select the add-in & click Add button.
Step 3 – Accepting Terms & Policy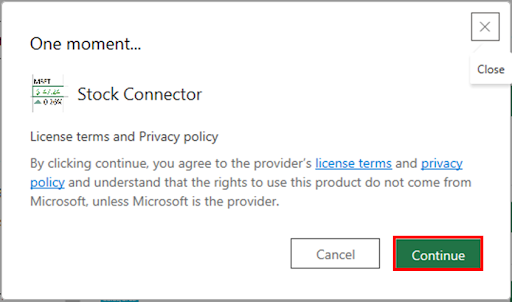 Next you will be prompted to continue with licence terms & privacy policy.
Click the continue button.
Step 4 – Launch Add-In
The add-in will launch automatically or you can launch it from the Home Tab.
Stock connector add-in window will appear at the side of your screen.
Step 5 – Search The Company
Click on cell A2 i.e select the company name. Notice that cell value will show in the search box.
Click the connect button.
Step 6 – Select The Correct Result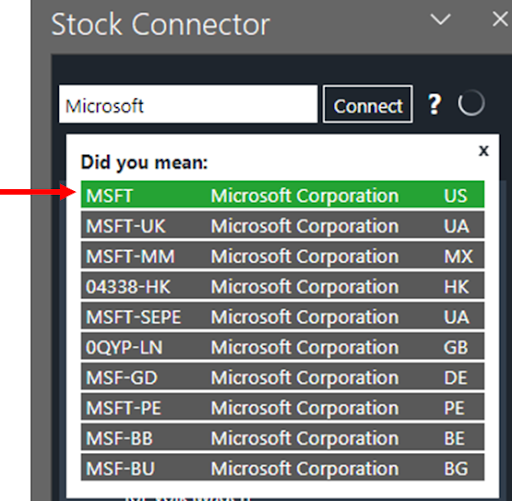 For our example we are finding Microsoft stock prices. Search results will display different divisions of Microsoft. Select the required one.
Step 7 – Select Data
Once you click on the required company name, you will be prompted to choose a cell to be connected with the add-in.
For our example, we will select cell B2.
Click the OK button.
Step 8 – Stock Prices Connected
The stock price of the selected company will be connected.
In the similar manner you can add stock prices of all of your desired companies.
Method 2 – Using Power Query
The Power Query of Excel can help us to get the stock prices from any external website. In this process, we will show how to do it. The steps of this approach are given below:
Step 1 – Go To The Data Tab

Open a blank Microsoft Excel Workbook.
Go to the Data Tab, under Get & Transform Data group click From Web button.
Step 2 – From Web Title Box
A dialog box will appear on your screen.
We will be using Yahoo Finance service to download stock prices.
Choose Basic option & type the URL in the dialog box & click OK button.
Step 3 – Navigator Window
The Navigator window will appear on your screen.
Click on Table 0 & press load button. (You can table preview on the right side of the screen).
Step 4 – Table Created
After you click on the load button, a table containing stock prices from the web link will be created in your excel sheet.
Close the Queries & Connection side pane & format the table as required.
Step 5 – Stock Prices Imported Into Excel
This is another way of importing stock prices into Excel.