How to highlight two columns in Excel
You can watch a video tutorial here.
Excel provides many ways to format text in Excel. You may want to draw the reader's attention to two columns of data by highlighting the text. To do this, you can change the color of the cell so that it stands out.
Option 1 – Use the fill option on the ribbon
Step 1 – Select the columns
Select the columns to be highlighted
Step 2 – Use the button on the menu
Go to Home > Font
Expand the Fill Color menu 
Step 3 – Choose a color
Select one of the colors displayed 
Note: You can use the More Colors option to explore other choices
Step 4 – Check the result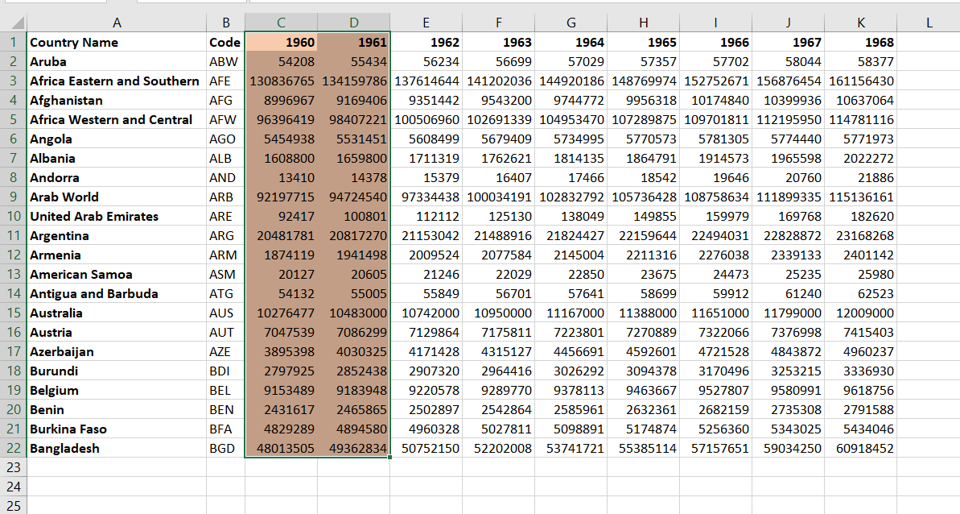 The background color of the selected columns is changed
The columns are highlighted
Option 2 – Use the format option
Step 1 – Select the columns
Select one column
Hold down the Ctrl key and select the second column
Step 2 – Open the Format Cells window
Right-click and select Format Cells  from the context menu
OR
Go to Home > Number  and click on the arrow to expand the menu
OR
Go to Home > Cells > Format > Format Cells
OR
Press Ctrl+1
Step 3 – Select the color
In the Format Cells window, go to the Fill tab
Select one of the colors displayed 
Note: Use the More Colors option to explore other color choices
Step 4 – Check the result
The background color of the selected columns is changed
The columns are highlighted