How to delete rows in Excel based on cell value
Deleting rows in Excel based on cell value means removing rows that contain a specific value in a particular cell.  This can be useful for filtering out unwanted data or cleaning up a spreadsheet with a large amount of data. The method involves using the filtering function in Excel to select only the rows with the specific cell value and then delete those rows.
In this tutorial, we will learn how to delete rows in excel based on cell value. In our dataset above, there are names of students are shown along with their results. We need to show only the failed student in order to do this we have to delete the rows containing the passed students. For this, we use 2 methods, the First is deleting from the Context menu and the second is deleting by using the filter. Following are the steps that guide you to use these methods.
In this article, we'll show you how to delete rows that meet a specific text condition, however, the same methods can be applied to delete rows that have a specific numeric value as well. Both methods discussed in this article are valid for numeric values s well.
Method 1: Delete Rows using the Context menu
Step 1 – Select the range of cell
Select the range of cells from which you want to delete rows
Step 2 – Press Ctrl+F kays
After selecting the range of cells press "Ctrl+F" and a dialog box will appear 
Step 3 – Type the search key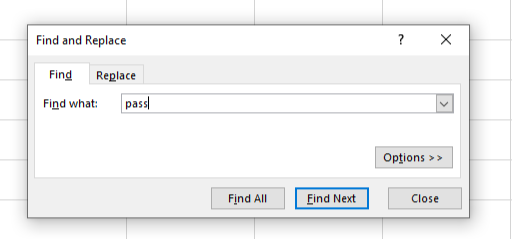 In the dialogue box type the data (on the basis of which you want to delete rows) in the box next to the Find What option
Step 4 – Click on the Find All option 
Click on the Find All option and a list will appear that will show the cell containing the searched data
Step 5 – Select all the Cells
 Select all the cells in the list 
To select all the cells Click on the first cell 
After clicking on the first cell press the Ctrl key and then click on all the remaining cell addresses  and all the cells containing the selected data will be selected.
Step 6 – Right Click on any of the selected cells
Right Click on any selected cell and a Context menu will appear
Step 7 – Click on the Delete option 
From the Context menu click on the Delete option and a dropdown menu will appear
Step 8 – Click on the Entire Row option
From the dropdown menu click on the Entire Row option 
Click on Ok at the end of the menu to get the required result
Method 2: Delete Rows using a Filter
Step 1 – Select the range of cell
Select the range of cells from which you want to delete rows
Step 2 – Apply filter
To apply a filter Click on the Sort and Filter option in the Home tab and a dropdown menu will appear
From this dropdown menu, click on Filter and arrows will appear on the first cells of the columns of the selected rage
Step 3 – Select the Data you want to delete
After applying the Filter, Click on the arrow on the first cell and a dropdown menu will appear 
Select the data from the menu that you do not want to be shown. 
Click on Ok after selecting the data and the data you want to show will be removed from the sheet
Step 4 – Select the data
After applying the filter unwanted data will be shown
Select this data
Step 5 – Delete the Data
After selecting the shown data, Click on the Delete cells option in the Cells group of the  Home tab and all the data will be removed
Step 6 – Clear the Filter
After deleting the data, Click on the filter symbol at the first cell and a dropdown menu will appear
From this menu, Click on Clear Filter From the "Status" option to get the required result