How to copy and paste a table in Excel
Copying and pasting a table in Excel refers to selecting a table of data that has been created in Excel or from another application, and then copying the data to the clipboard to paste it into a new location or worksheet in Excel.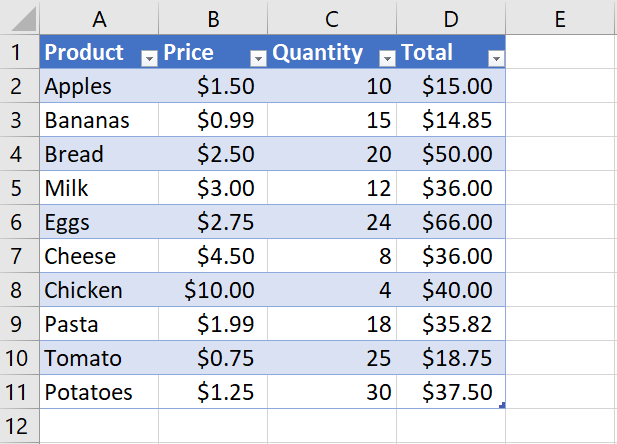 Our dataset comprises of a store bill in the form of a table that includes product names, corresponding quantity, and their respective prices. Our objective is to duplicate this table and paste it into a new worksheet. To accomplish this task, we have four different methods explained in the following steps.
Method 1: Copy and Paste the Table by using the shortcut Keys
Step 1 – Select the table
Select the table you want to copy
Step 2 – Press the CTRL+C key
After selecting the table press the CTRL+C keys to copy the table
Step 3 – Select the Cell
Click on the Cell where you want to paste the table
Here we have selected a cell in a new sheet, you may select the cell in the same sheet table is present
Step 4 – Press the CTRL+V key
After selecting the cell, Press the CTRL+V key to get the required result
Method 2: Copy and Paste the Table by copying the Columns of the table
Step 1 – Select the Columns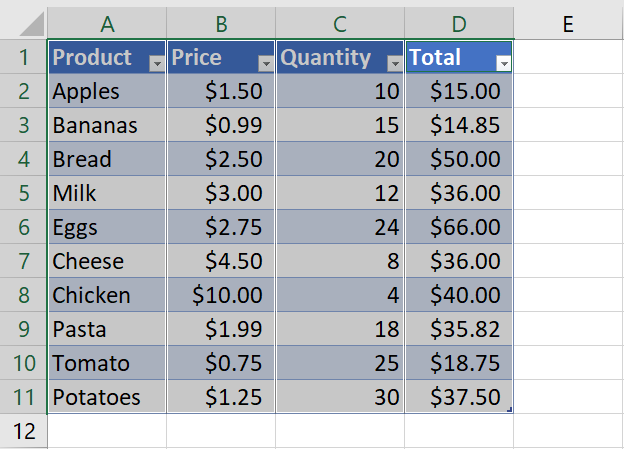 Select the Columns of the table
To select the column separately, select the first column
After selecting the first column, select the other columns while pressing the CTRL key
Step 2 – Copy the Column
After selecting the columns, press the CTRL+C key to copy it
Step 3 – Select the Cell
Click on the Cell where you want to paste the table
Here we have selected a cell in a new sheet, you may select the cell in the same sheet table is present
Step 4 – Paste the Columns
After selecting the cell, press the CTRL+V keys to get the required result
Method 3: Copy and Paste the Table by using the Context menu
Step 1 – Select the table
Select the table you want to copy
Step 2 – Copy the table
After selecting the table, right-click anywhere in the selected area and a context menu will appear
Click on copy option, in the context menu
Step 3 – Select the Cell
Click on the Cell where you want to paste the table
Here we have selected a cell in a new sheet, you may select the cell in the same sheet table is present
Step 4 – Paste the Table
After selecting the cell, right-click on it, and a context menu will appear
From this menu, click on the Paste option to get the required result
Method 4: Copy and Paste the table by first pasting the values and then pasting the Format
Step 1 – Select the table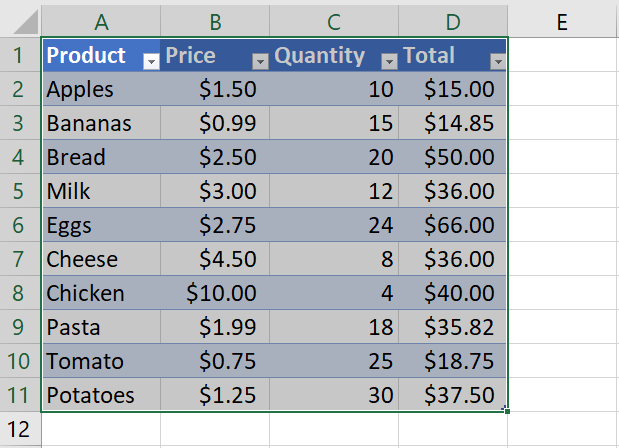 Select the table you want to copy
Step 2 – Press the CTRL+C key
After selecting the table press the CTRL+C keys to copy the table
Step 3 – Select the Cell
Click on the Cell where you want to paste the table
Here we have selected a cell in a new sheet, you may select the cell in the same sheet table is present
Step 4 – Paste the value
After selecting the cell, right-click on it, and a context menu will appear
From this menu, click on the Paste Values option and the values will be shown
Step 5 – Paste Format
After pasting the value, right click anywhere and context menu will appear
From this menu, click on the Paste formatting option to get the required result