For our example, we'll use a sample family tree for the Johnson family. The family tree will include the names, ages, and relationships of each family member. Here are some steps you can follow to create a basic family tree in MS Excel:
Creating a family tree in Excel can be a bit challenging and it may require some creativity on your part, especially if you have a large family. However, once you have your data organized, creating the chart itself should be relatively straightforward.
Step 1 – Open New Worksheet & Create Family Table

– Open a new Excel workbook and create a new sheet.
– In the first row of your sheet, create the column headers for your family tree. In this example, we'll use "Name", "Age", "Relationship", "Father's Name", and "Mother's Name".
– Enter the names, ages, relationships, and parent information for each family member in your table. Be sure to leave the "Father" and "Mother" columns blank for the grandparents.
Step 2 – Locate SmartArt option in Insert Menu

– Once you have your family data in excel table, click on the "Insert" tab and select "SmartArt" from the menu.
Step 3 – Insert SmartArt Graphic

– In the SmartArt menu, select the "Hierarchy" option.
– Choose the type of family tree chart you want to create. For this example, we'll use the "Organization Chart".
– Click OK.
Step 4 – Write Names In Organizational Chart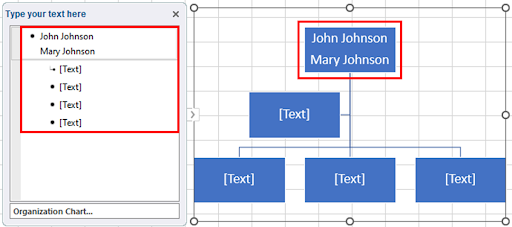 – This will insert a blank organizational chart in Excel spreadsheet and now we can add Names as per Family details in the boxes shown below to create a Family Tree. Click inside the text box or click on the left side menu to enable editing mode.
Step 5 – Add Or Delete Node In Organizational Chart

– We will need to add more nodes to add family members.
– Select the text box where you want to add members, click on SmartArt Design tab & click Add Shape button. Choose either of the options. We will select Add Assistant & type names of Family members.
– Similarly, you can delete a node by selecting the text box & press delete button on keyboard.
Step 6 – Customize Family Tree

– Customize your family tree chart as desired by changing colours, styles, and layout options.
Step 7 – Finishing The Family Tree

– Save your family tree chart and share it with your family members.